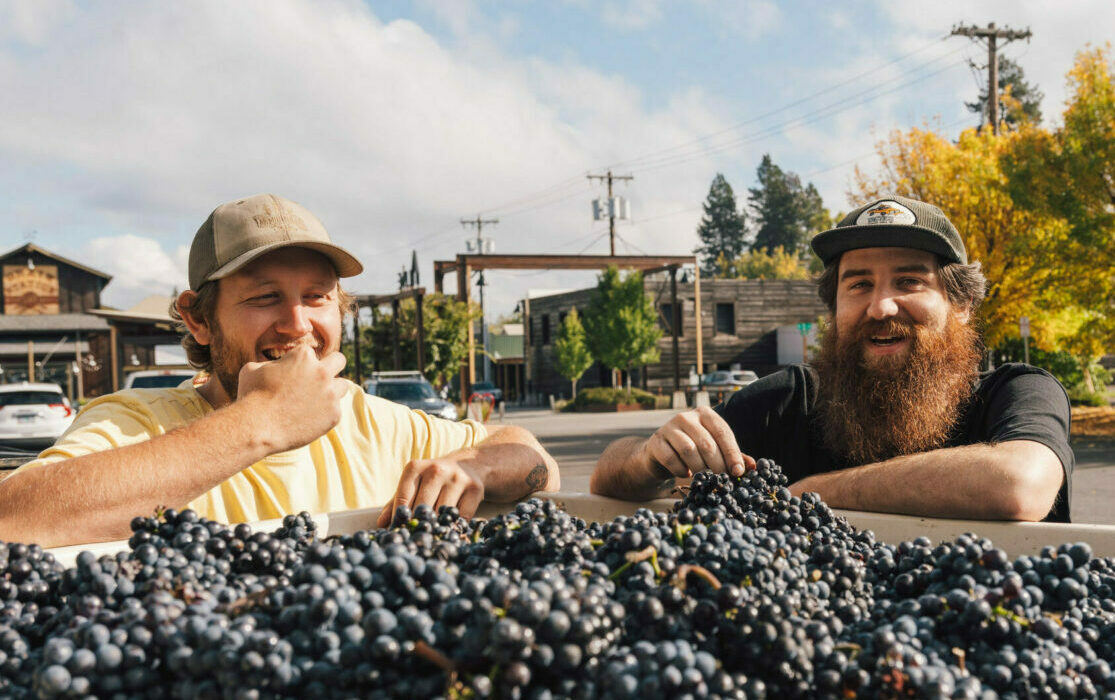 That's A Wrap on Harvest 2023
Today marks the final day of Harvest 2023 at R. Stuart! The cellar crew is pressing off Aurora Colony Vineyard Pinot noir – a new vineyard we're working with this year – and Cabernet Sauvignon for our Three Clowns Cabernet. When the end is so near in sight, it encourages us to reflect on where we started. With that, we share our Harvest Report of 2023!
The Growing Season
After the wildfires and smoke of 2020, the intense heat waves of 2021, and an incredibly high-yield harvest in 2022, we were crossing out fingers for as "normal" of a season as possible. A soggy spring created nerves as we waited for bud break – which wound up being 3 weeks later than anticipated. The hope was that intense rains would not continue after bud break, as it can knock off the developing berries and lead to lower yields.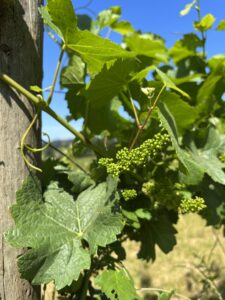 (Left: Bud break at Daffodil Hill Vineyard on June 12th. The small clusters gives us an idea of what yields will be. Below right: Clusters in full veraison at Daffodil Hill on August 22nd.)
The cooler weather brought concern to vineyard stewards as to whether the grapes would reach maturation in time. However, it became clear by late July that the vines were plenty happy and settling into the dry, sunny weather. Come August, the grape clusters were pronounced and beginning to show signs of veraison.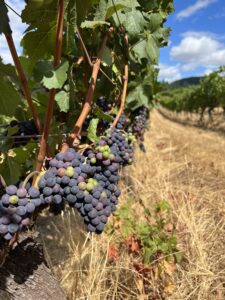 And then, almost out of nowhere, harvest came on fast and furious. It all began on September 6th with fruit from the Menefee Vineyard, which we use for sparkling wines. Fruit for sparkling wines comes in to our facility before Pinot noir, as the higher acidity levels in the grapes serve well for the structure and profile desired in a bottle of bubbles. While these were the first grapes we processed, our neighboring wineries were already bringing in Pinot noir the same week.
To Pick or Not to Pick
The Pinot began rolling in to our neighbors as the brix (sugar) levels reached 18-20°.  Many vineyards became concerned as fall rains began. Oregon's fall weather swings drastically between days of downpouring rain and 80° afternoons, which is a prime breeding ground for molds and powdery mildews in the vineyards. This leads to a rush to harvest Pinot noir grapes before that becomes a reality.
While we saw the same brix levels in the grapes in our vineyards, Rob was hesitant to pick as early as others in September. He is notorious for telling vineyard growers to hold on picking for "just one more week". Why let them hang? Well, just because a grape has reached the sugar level of "ripeness", which technically means it can be picked, it does not mean it has full flavor. The longer hang time allows for a dynamic flavor profile to be established in the grape prior to processing. Rob's attention to detail (there were weather forecasts from multiple sources tacked up to the winery office's wall) kept us in the clear and allowed the Pinot grapes to hang a few weeks longer. While this process makes our harvest season longer than other producers, we believe it ultimately creates a more lush, flavorful wine in the end.
Let the Grapes Begin!
On September 20th, our first lots of Pinot noir entered the winery. By September 29th, we had brought in roughly 150 tons of fruit – equating to 40% of our anticipated tonnage. On top of processing our first lots of Pinot noir, filling the floor with fermenters, we were bottling almost every day in tandem. Fork lifts whirred past each other on a mission, working to ensure everything could be wrapped up at a decent hour that evening. In September alone, the cellar team bottled nearly 8,000 cases of wine.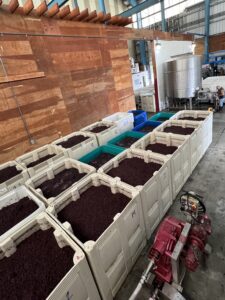 (Left: A view of the winery floor when we had 195 tons of fruit in fermenters, all requiring manual cap management.)
The fast and furious really showed off in the first week of October. We brought in our final Pinot noir grapes on October 12th, and the final fruit came from Eastern Washington for 3 Clowns Cabernet Sauvignon the following week. We had so many fermenters that they not only filled the winery floor, but also our entire parking lot! Overall, that brought our total tonnage received to 371 tons – one of the larger vintages our winery has seen.
Amidst the controlled chaos of long days of harvest, we were lucky to have several old friends return to the winery for harvest. In classic fashion, the 3 Clowns tended to their Cabernet grapes and wines in barrel. Our friend Laura, who has come out to visit every year for the last 6 years, joined us from Vermont and brought her cocktail curations with her – making for some much appreciated happy hours after days of pressing. Nicole and Craig, former valley-dwellers who now live in the mid-West, earned their keep in the cellar with punch downs, press clean-outs, and morning bagels. It's always a joy for us to have curious, humorous folks join us for harvest – and this year's crew was no exception.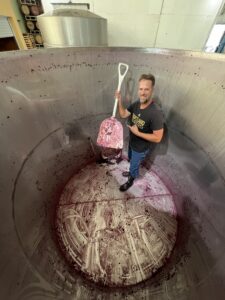 (Right: Cellar team member, Ben Glawe, after digging out an open-top fermenter. Below left: Cellar Manager, Nic Gates, on the first day of barreling down the 2023 vintage.)
The End is in Sight
In the same days that we processed our final grapes, we also began to press off fermenters. Floor spaced opened up as the press hummed away, pouring out beautiful, ruby juice that tasted just as good as it looked. This step rejuvenated the team with the same start-of-season excitement to push through the final weeks. When the product they've been working on so diligently is undeniably beautiful, there's no wonder it put a little pep in their step.
With juice pressed off, the time to settle and barrel down began. Last week we started barreling the 2023 vintage, and we anticipate those 371 harvested tons to fill nearly 750 barrels. This brings us to today – our final press loads of Harvest 2023! This is considered to be the last day of harvest as it is the final time any grapes will be manipulated in our facility. At this point, it's time for more barreling, and then the process of monitoring and letting the wines rest ensues.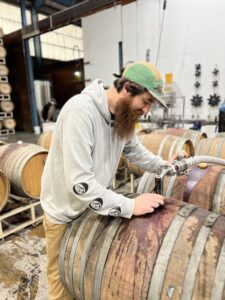 Overall, Rob is truly thrilled with this year's harvest. Between our team's dynamics and work ethic, the quality of the fruit from all our vineyards, the stellar weather, and the traditions we are so lucky to continue, this harvest is one for the books. We cannot wait to share these wines with you in time!
If you want to see R. Stuart in action, join us for our Harvest Open House on November 18th! An annual celebration of the end of harvest, we invite wine club members, locals, and visitors alike to the winery to taste through our current portfolio of 2019 Single Vineyard Pinots and more. Peruse goods from Crowley House Farms, enjoy bites from Chef Kari of Hayward/Mac Market fame, and hang out with the R. Stuart Crew. This event is in tandem with our Harvest Sale, where wines will be up to 30% off. It's the perfect time to stock up on your favorite R. Stuart bottles for your holiday table! You can purchase your tickets here. Cheers!