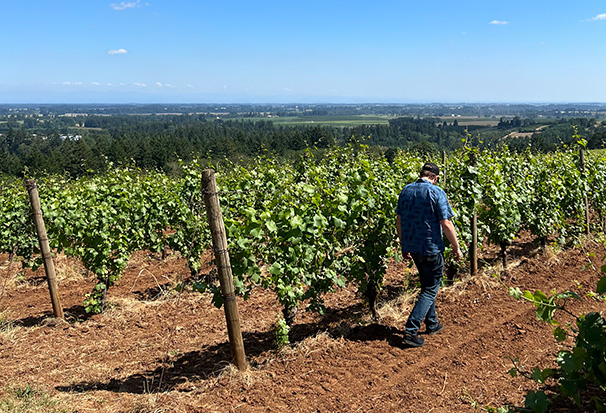 If you've caught our most recent newsletters, you know that our anticipation for this year's harvest has been steadily building. One of the wildest parts of winemaking is that there is no tried and true "start date" to harvest. In 2011, our harvest motto was, "November is the new October," alluding to the later-than-normal start time to that year's harvest. In a different year, the first fruit we received came through the winery mid-September. Year to year, our timeline is dictated by forces out of our control – keeping us on our toes for when our busiest season will begin.
At this point in the growing season, there are several indicators which determine the quality and timing of harvesting the grapes. Among them include visual cues, technical specifications, and weather. While each of these factors and their impacts will vary by grape varietal, they are all crucial to pay attention to in order to create beautiful, compelling wines.
The most discussed factor in regard to vineyard growth and quality is weather. Earlier this year, winemakers and viticulturists around the valley were concerned with the late bout of frost we faced in April. Some winemakers anticipated losing up to 50% of their crops. Fortunately, R. Stuart has been relieved to see that our partnering vineyards were not largely affected, and we do not foresee any major repercussions to our crop yields. The one exception we are considering is with our white wine varietals, like chardonnay. Budbreak, the beginning of new shoots and vines, happens earlier on varietals like chardonnay; being hit by frost in the early stages of development can affect the overall quality of the plant.
When asking our Production Winemaker, Jordan Rosenberry, why white wines are affected by frost more than reds, he said that it comes down to elevation. "We have to pay attention to locale when considering the effects of frost. Lower elevations are warmer climates and have faster growing seasons, while higher elevations are colder and take longer to mature. Our Pinot noirs are grown at lower elevations, while our whites, like chardonnay, are grown at higher elevations." Frost at a low elevation site can be stressful, but not as stressful as when at a high elevation site. Putting an already cold site with slower maturation time through a frost would make a quick turn to there being little to zero yield of fruit.
Rob chooses to source white wine grapes from high elevation vineyards because it creates the ideal palette for the white wines he likes to make, which are off dry. Both cooler temperatures and high elevation slow sugar development in the grapes and can lend to a higher acidity in their profile. This makes for our favorite, incredibly food friendly white wines. Some of the "chosen grapes," like chardonnay, are turned into our sparkling wines.
Looking ahead to this harvest, our team overwhelmingly feels that our Pinot crops are in good shape. The Hirschy vineyard, located in the Yamhill-Carlton AVA, produced only 13 tons of fruit in 2021; this year, we are anticipating upwards of 35 tons. Similarly, Courting Hill vineyard produced 35 tons last year, and crop estimates are currently sitting at almost 90 tons.
As we take time looking at the vines in this season, we are keeping a close eye on the progress of veraison. This is one indicator of the vines that is most exciting to us – it's the proof of the grape's strength and potential. Veraison, or the changing of the grape's color, is the first opportunity for vineyard stewards to get a crop estimate. If you were to take the weight of a cluster of grapes in veraison and double that number, that is what you anticipate the weight of the clusters at the time of harvest to be. Between seeing how many clusters are on each vine, and the number of vines to the acre, we have a decently accurate gauge of our crop yields. The intel we gather at the veraison stage influences everything in our production – whether that's how much fruit we should anticipate coming into our facility, all the way to how much glass we will need to order for bottling the wine two years down the line.
Cellar Manager, Nick Gates, also manages a personal vineyard outside of his time with R. Stuart. Beyond veraison, he is also looking for other visual cues of a healthy canopy. As the weather continues to warm each year, he mentions that he keeps an eye out for yellowing leaves, which indicates drought stress. Don't worry, though – Nick also shared that, "Right now, water is not a concern and everything looks healthy." Nick also considers the compactness of clusters, which can create prime environments for disease. When the grapes are tight in the cluster, it prevents air flow and creates a breeding ground for unhealthy powdery mildew.
Preventative measures, such as spraying sulfur in the vineyards, will mitigate such diseases. If you have ever been out for a wine tasting on a summer day and smelled something akin to rotten eggs, you might actually be smelling disease prevention! The spraying of sulfur is a method to prevent powdery mildew, as it is a fungal disease that infects green plant tissue. This means that grapes are most susceptible to this disease starting at budbreak until veraison.
Among the best indicators of the quality of grapes and vines is also the most simple: we taste a lot of grapes. "We are constantly tasting the grapes in the vineyard because, ultimately, we are looking at the grape in its entirety – not just for its technical specifications," says Casee Clark, our Sales and Club Manager. "The bottom line is that if the fruit isn't good simply as fruit, then it won't make for good wine."
We have been making frequent trips out to our vineyards to keep close eyes on the progress of the vines. As of now, we are anticipating our first fruit – white varietals that will turn into sparkling wines – at the end of September. Wine Club members will be invited to join us on September 24th for a return to events at the winery. At this Pick Up Party, club members will have the opportunity to share well wishes for the harvest season, learn the ins and outs of how the heck it all happens in our space, and taste some of our newest projects in the R. Stuart family of wines (can you say Gamay?). Our team is eager to see everyone back together. If you want to join in on events like these, we invite you to explore our wine clubs. Join one of our clubs by September 13th, and you'll be able to pick up your first shipment at this very party!
And then? Well, Rob's projection of harvest being in full swing is sometime in early October. Of course, only time will tell. Over the next few weeks, we will be busy with bottling projects and cleaning to ensure there is plenty of floor space for the many fruit bins that will soon fill the winery. While it may be two years until you taste the 2022 vintage, the time we are taking now in the vineyard is ensuring that you will enjoy incredible wines for years to come.