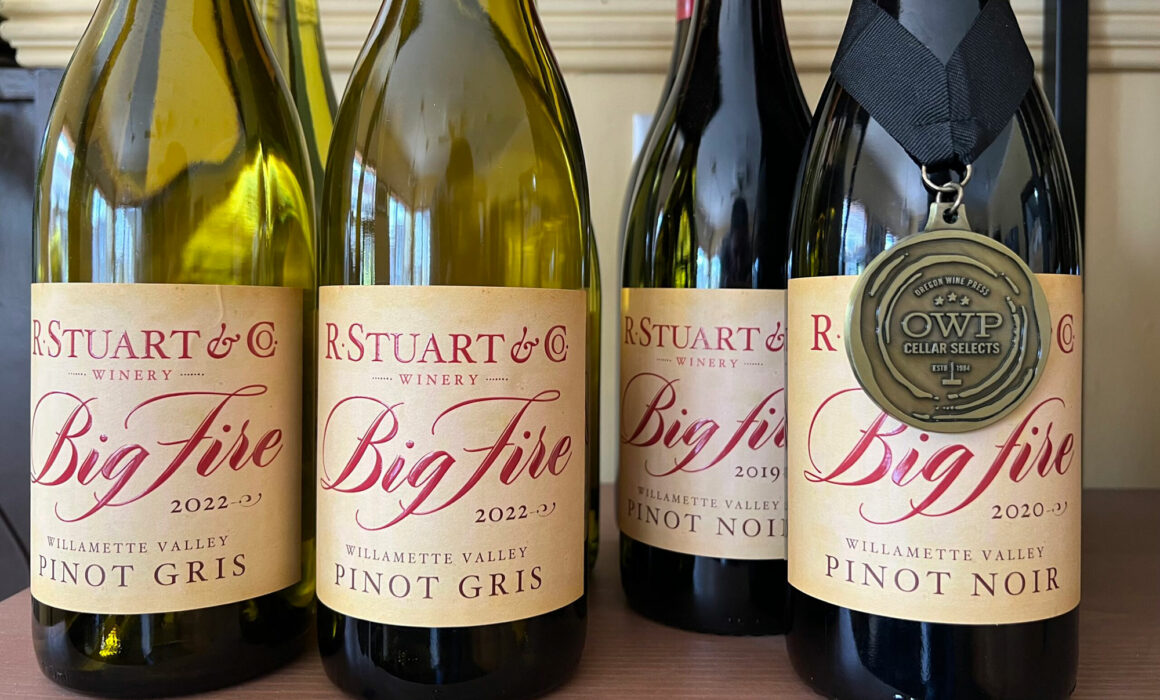 In the back corner of our winery, there's a "House Rules" sign from the early days of R. Stuart. On the list are values which we still hold near and dear to our hearts, even 20 years after our humble beginnings: "Protect and respect the fruit and its grower," "Single vineyard bottlings are always interesting," and "Good friends, good food, good wine – period." However, listed as #6 on the House Rules is something we still believe in, but is a rule we've broken over the years. It reads, "Scores, schmores: You know what you like and so do we. Submit our wines to critics? Nope, not us. We don't play that game. Come on, you be the judge."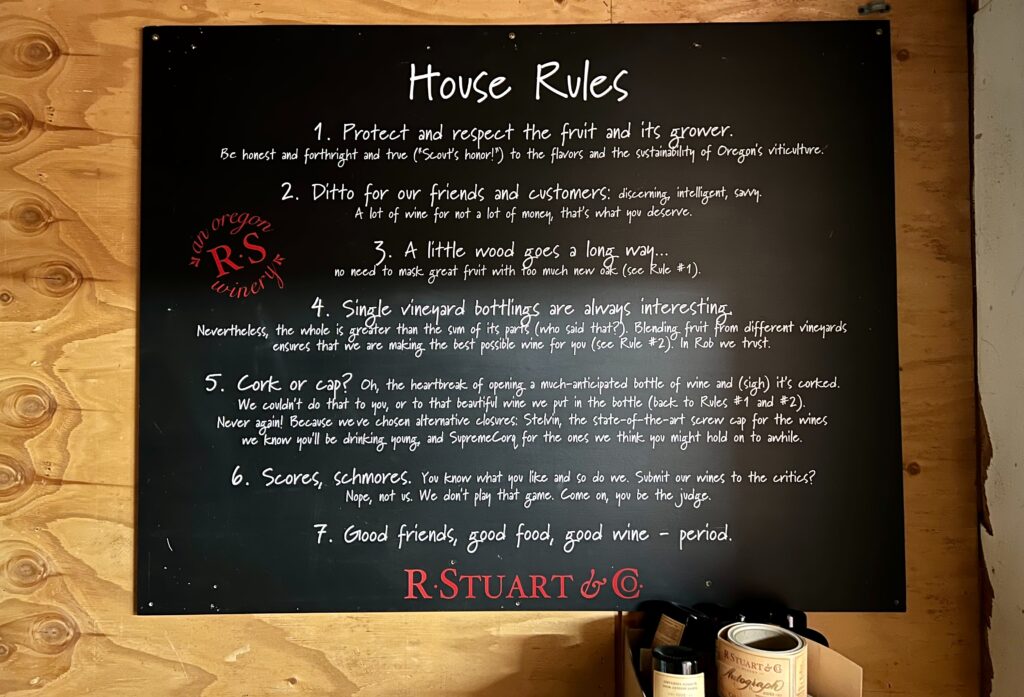 It's true that in the first years of R. Stuart, we did not submit our wines for scoring. Rob and Maria were committed to the notion that scores did not add anything to our wines – rather they validated our product by someone else's subjective palate. The core of their ideology was not far-fetched. When a winery or producer sends their scores to be reviewed, a variety of factors influence how the wine will be scored. A relationship with the wine writer, previously earning high scores from the reviewer, having the financial means to submit a wine (submissions can range anywhere from $20 to $300 or more, per wine submitted) in addition to paying for the score to be promoted (which can cost $500-$3,000+!), or even submitting a wine that is trendy, can all influence the wine's final review.
Many consumers believe that the points assigned to a wine indicate just how delicious the product is, when often the score actually reflects the "typicity" and production quality of the wine. According to Madeline Puckette of Wine Folly, "Typicity is how much the traits of a particular wine 'typify' the style and region it's from." So while a consumer sees a 94 point wine on the shelf, their school-trained-brains automatically assign it an 'A," believing it must be a good wine, yet that's not always the bottom line.
When looking at wine scores, here's what we encourage you to consider:

The Reviewer or Source vs. Your Preferences

Just as you may like a wine that your friend doesn't, some critics may like or dislike a wine that other critics gave a rave review to. The bottom of line, always, is that it's subjective. Rob has long said that his favorite wine will depend on the day he's had and the people he's surrounded by. It's likely safe to assume those same parameters apply to wine reviewers. 

Whether it's a wine publication or a personal blog, take some time to determine who actually reviewed the wine and whether you generally agree with their taste. Some critics and reviewers prefer bold, undeniable flavors while others prefer nuances and subtleties in wine, which can ultimately affect scores they assign. Understanding a reviewer's general profile can help you understand how to interpret the scores presented, and connect whether those wines will fit your taste.

The Scale Used to Evaluate the Wines

This is probably the trickiest part of wine scores. As said earlier, our brains are pretty well trained from school days to see 90+ points as a good score; this leads to many folks skipping over suggestions of 89 points and below. However, when the actual scale is in front of you, it becomes obvious how subtle the differences between a 93 and a 94 actually are, and what they truly mean.

Take Wine Enthusiast's scale, for example:

98-100 points – Classic
94-97 points – Superb
90-93 points – Excellent
87-89 – Very Good
83-86 – Good
80-82 – Acceptable

In this scale, a "very good" wine differs from a "superb" wine only by 4 points. The language used can also be subjective – what is "excellent" vs. "superb"?

Wine & Spirits Magazine, as another example:

95+ points – Superlative, rare finds
90-94 – Exceptional examples of their type
86-89 – Highly recommended
80-85 – Good examples of their variety or region

In this scale, the language used shows that they are reviewing based on the "typicity" which Puckette refers to. A wine that scores 96 points from this reviewer does not necessarily mean that it's an exceptional tasting wine, but rather a rare find. A wine scoring an 83 should still be considered a good example of the wine's type or region.
When it comes to R. Stuart wines, scores are varied and range wine to wine. Let's take a look at recent examples of scores we've received which show the discrepancy between two reviewers.
2020 Love, Oregon Pinot Noir

Wine Enthusiast: 88 points, "Very good"
Beverage Testing Institute: 93 points, Gold

2020 Love, Oregon Chardonnay

Wine Enthusiast: 89 points, "Very good"
Beverage Testing Institute: 80 points, Bronze
If a consumer were to see both scores attached to the bottle on the shelf, they'd likely be conflicted by the information. Is it a "third place bronze" wine or "very good"? Is it "very good" or "first place gold"? It's at this point that we suggest you pause, step back, and come back to your own palate. Trust yourself. As a wine drinker, you've likely come to an understanding of the qualities in a wine that you favor and are absolutely allowed to use that as your guide.
While a particular bottle may have a high score, you may notice that it's a varietal that you tend not to enjoy. Or maybe you see a bottle on the shelf that has zero fanfare, but is from a region you've always wanted to try. What should you do? Try it! The R. Stu Crew regularly gets together to try bottles that we each enjoy, are wanting to learn about, want to give a second chance, or that are so bizarre that we can't help but pop the cork. Sometimes, the wines are total flops. But other times, we find bottles of wine that catch us off guard and have us keeping a close eye on the bottle to make sure we get another taste.
These days, when it comes to our wines and scores, we're willing to bend the rules a bit. We understand that scores can help sell wine and get it in the hands of someone who otherwise wouldn't have looked twice. It's also a huge pat on the back to our wine production team when we receive a score to be proud of. They put incredible amounts of time and knowledge into each bottle that leaves our facility, and they deserve all the praise in the world. So while not all of our bottles will tote a score, rest assured that we believe all of our wines are classic, superlative, gold-level wines, and we wouldn't share them with you unless they were.